Company Profile

Xi'an KINGWELL OILFIELD MACHINERY Co., Ltd. (KINGWELL), is a highly reputable manufacturer and supplier for oilfield equipment, also a outstanding service company for complete solutions to Oil & Gas industries.
With over 10 years developing, we were developed from the beginning drilling Service Company to factory that can produce Drill Stem Test Tools, mud pump parts, Drilling Tools etc. At the same time, KINGWELL still keep the first-rate drilling service and comprehensive solution in oilfield. And KINGWELL is also one international reputable supplier who can source Solid Control Equipment, OCTG and other tools.
During the long-term development, relying on Xi'an's abundant industrial and technological foundation, we actively commit ourselves to development and research of products to meet different user's requirements, thus we have always kept ahead on the technology. Every year we have new products launched into the market, affirming the company's leading role in the trade.
KINGWELL have experienced team, stronger enough to meet any challenge, we take "the quality first, the customer supreme" as the management idea, we are willing to provide you the first-rate service with our advanced technology and high-qualified staff. Nowadays our products have been exported to in America, the Middle of East, Europe, Australia etc.
Mission
KINGWELL desires to be one of the most excellent international oilfield manufacturers and suppliers. Our success depends on your success. Let us join together to expect a bright future.

1.KINGWELL OILFIELD MACHINERY Co., Ltd. (KINGWELL)
2.KINGWELL Inspection Service CO.,LTD
3.KINGWELL mudpump CO.,LTD
3.KINGWELL DST Tools CO.,LTD
4.KINGWELL Drilling Tool Rental CO.,LTD

Facility & Office
KINGWELL Owns the international and standard facilities and laboratory used for drilling tools, rig parts, DST tools etc.


QA & QC
In order to keeping competition and developing, the basic is to improve any possible aspects such as company quality, we place an emphasis on elements includes controls, job management, defined and well managed processes, performance and integrity criteria and identification of records, on competence includes knowledge, skills, experience and qualifications, on soft elements includes personnel integrity, confidence, organizational culture, motivation, team spirit and quality relationship.
Honor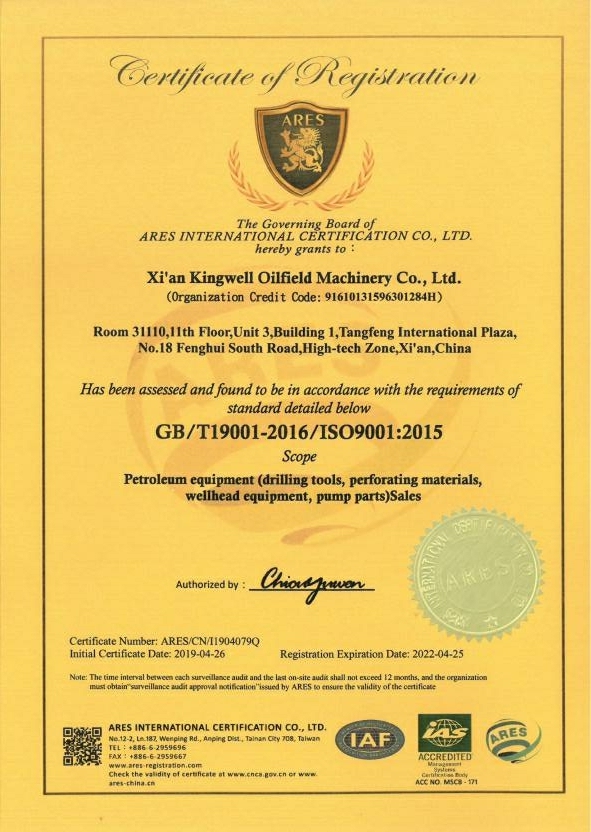 we main do
1. Manufacturer of Top Quality O.E.M. Interchangeable Pump Parts ( manufacturer )


quality and safety, enterprise life source
SAFETY IS FIRST
KINGWELL truly care for the health and safety of every employee. Consequently nothing is more important than living our values during the daily operations.
KINGWELL have a rigorous safety culture of responsibility and accountability to make sure the achievement of "Zero Injury, Zero Accident and Zero Pollution" in all our workplaces. We also put efforts to protect the health and safety of our employees and other related parties.
KINGWELL QHSE Policies:
Ø Keeping personnel safe and well is our top priority
Ø Prevent first , improve the competency and integrated management in a consistent way
Ø It is our responsibility to protect the environment and help build sustainable societies
Ø We are committed to promote the harmonious coexistence of human, nature and growth
KINGWELL QHSE Commitment:
Ø We focus on Providing high quality services and products and protecting our employees from injuries, avoiding occupational diseases and providing a safe work environment;
Ø QHSE excellence is the primary objective of leaders at all levels and the responsibility of every KINGWELL employee;
Ø Our leadership teams are committed to achieving QHSE performance excellence in all KINGWELL operations and production while delivering high quality work.
QHSE Management System:
KINGWELL establish the Product quality management system by a range of standards: GB/T 19001-2008/ISO 9001-2008,API14A、API11D1 and establish the HSE management system by a range of standards: GB/T 28001-2011/OHSAS 18001-2007、GB/T 24001-2004/ISO 14001-2004 , which are applicable to eliminate the QHSE risks.
10 Elements of QHSE Management System
1. Leadership commitment, policy objectives and responsibilities
2. Organization, responsibilities, resources and document control
3. Risk assessment and potential hazard control
4. Contractor and supplier management
5. Equipment(Facilities) design and construction
6. Operation and maintenance
7. Change management and emergency management
8. Inspection and supervision
9. Accident treatment and prevention
10. Audit, review and continuous improvement